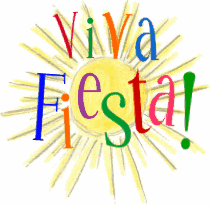 Oh boy. Today is not just a one-event kind of day. It's the kind of day that EVERYTHING is piled together - multiple parties and activities and reasons to celebrate! All kinds of craziness! I just wish it was sunny out... maybe it will be later?

First off - it's Cinco de Mayo!
It's kind of like the "Hallmark Holiday" for Tequila!
And Second - don't forget it's Kentucky Derby Day!
The Kentucky Derby official website says this, in case you don't know what that means:
The Kentucky Derby is a Grade I stakes race for three year-old Thoroughbred horses, held annually in Louisville, Kentucky, on the first Saturday in May. The race is one and a quarter miles at Churchill Downs. The race is known in the United States as "The Greatest Two Minutes in Sports™" for its approximate duration, and is also called "The Run for the Roses" for the blanket of roses draped over the winner. It is the first leg of the United States Triple Crown of Thoroughbred Racing and is followed by the Preakness Stakes and Belmont Stakes.
What it DOESN'T say is Kentucky Derby Day is a really good excuse for a party - and, in the tradition of the Kentucky Derby, you drink Mint Juleps and wear huge hats as you watch the race.

This is the schedule:
May 5 11:00-4:00pm ESPN Coverage of the Kentucky Derby Undercard
4:00-5:00pm Access at the Kentucky Derby / Kentucky Derby Red Carpet Special
5:00-7:00pm Kentucky Derby 138

And if you want to look especially knowledgeable, here are some odds (but these will, of course, keep changing):
Odds for 2012 Kentucky Derby Favorites

#1 Union Rags and Bodemeister 9/2 and 5/1 respectively.

#2 Gemologist 7/1

#3 Dullahan 10/1

#4 Alpha & Creative Cause both 10/1

#5 Hansen 12/1

BONUS #6: El Padrino 15/1
I hope you have a great day, no matter what you have on your calendar!